Hello; my name is George Ashley. I presently live in the City of San Francisco, California, USA. I was born and raised on Long Island, New York. My early training consisted of primary and high school and then attending Hemphill Diesel School in Queens New York. I worked in the Diesel engine trades till joining the US Navy and being trained and rated as an Engineman. Since I also had a background in electronics from my high school days, I was able to change my rate while in the Navy to Electronics Technician. Upon my discharge from the Navy, I worked as an electronic technician in the electronics industry for a number of years.
I joined the Glenwood Fire Company and became very interested in all matters relating to fire fighting apparatus and equipment. With my mechanical and engine experience, I was hired by the Ward LaFrance Truck Company who were builders of fire apparatus in Elmira Heights, New York, as a local fire apparatus serviceman for the Long Island and Southern New York area. My service area was soon expanded to include the five New England states. Shortly thereafter, I was called into the factory and placed in charge of the service shop and new apparatus inspection and delivery. Later I was assigned to Los Angeles, California, to oversee the delivery and service of all new Ward LaFrance fire apparatus sold in California, Oregon and Washington.
When the Ward LaFrance Company began to have financial problems in 1975, I left the company. I was then hired first by the Los Angeles County Fire Department and later by the City of San Francisco as a fire apparatus repairman where I worked until I retired.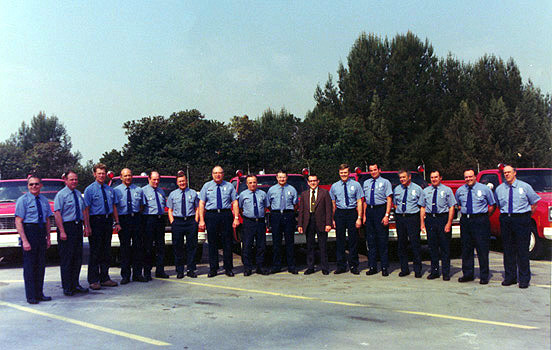 This is a picture of the Los Angeles County Fire Apparatus Field Repair Crew taken in 1975 when I was a member of the crew. The picture was taken at the Los Angeles County Fire Department Training Center at 1320 North Eastern Ave.in Alhambra. I am second from right in the photo.
From L to R: George Pohl (R12), Don Temple (R7), John Glover (R13), William VanAusdall (R9), Leslie Johnson (R6), Ernie Buttery (Apparatus Inspector), Gerald Hopper (R8), Leonard Mintey (R1), James Ellis (R2), Roland Rister (Chief Apparatus Inspector), Wayne Olson (R14), Gary Maiben (R11), Marty Goziker (R3), Joseph Fregeau (R5), George Ashley (R10), Charles Bridges (R4).
You can Email me at: geoley@covad.net

Back