February 10, 2002
Happy Chinese New Year!
---
Remembering Rong Guotuan
Written in Chinese By Steven Cheung
English translation by Chung Lau
(Chung's Notes: This article was written by Dr. Steven N.S. Cheung, a world-renowned economist, former chairman of the Hong Kong University's Economics department, and a good friend of the young Rong Guotuan who eventually became China's first world champion in any sport. I could not find the date of this article, but I believe it was written around 1990. Dr. Cheung is one of my favorite Chinese writers: he is especially good at explaining economics principles in layman's terms. He also writes extensively on Chinese art and literature appreciation. Raised in Hong Kong, Dr. Cheung received his Ph. D. in Econmics from University of California, Los Angeles, and is an authority on the recent Chinese economic transformation. Those interested in economics may want to read his first major paper "The Fable of the Bees: An Economic Investigation" published in the Journal of Law and Economics in April 1973.)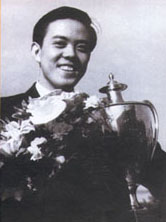 At the 1989 Worlds held in Dortmund, West Germany, the Chinese men's team did not win any gold medal. Thirty years earlier, at the same place, my good friend Rong Guotuan, with his penholder hitting and blocking style, prevailed over Hungarian Ferenc Sido to win the men's singles final match. The Chinese table-tennis dynasty started on that day, and has been one of most successful sports dynasties the world has ever seen.
Over the years, many friends have asked me to write something in memory of Rong. Every time I tried, I would stop after a few hundred words: it was so emotionally hard for me to do it. With China's recent defeat in Dortmund, I began to think of things that happened over 30 years ago. The women's team that Rong worked so hard to develop is still reigning supreme. Rong would be so proud of it. A sports genius with a weak physique, Rong had enormous impact on China's sports machinery, and the women's team is just one of Rong's many accomplishments.
In late spring 1957, Rong and I went on different paths. He planned to leave Hong Kong to go back to China, and I was headed for North America to try my luck there. His reason for going back was as follows. Earlier that year, he became Hong Kong's men's singles champion, and in an exhibition match on April 23, he beat Japan's Ichiro Ogimura 2-0. Ogimura was more than just a world champion. His forehand smashes were extremely accurate, and he was almost undefeated during that time. Rong was working for the (pro-Communist) Union and was not respected by the news media. After that match, I was the only one accompanying him in the dressing room. Beating Ogimura was a major upset, and yet no reporter wanted to talk to Rong, who now appeared a little embarrassed. I started talking to him and I told him that his backhand blocks were getting faster and faster, and that he should consider setting his sights on the world championship. He said, "Tonight I was lucky. Don't forget that at 19-all in the second game, Ogimura served off the table". I said, "In a best-out-of-5 match, you may not have the endurance to beat Ogimura. But in a best-out-of-3, I think you should be favored".
That May, the Asian Championship was held in Manila. Rong was left out of the Hong Kong team. If he could not even make it to the Asian Championship, what chance did he have to make it to the Worlds? Some of Rong's friends and I felt that Rong needed to go to China in order to have a decent shot at the Worlds. That was how he decided to leave Hong Kong and went north. Little did we know at the time that our advice would lead to a great tragedy.
I left for Canada on July 31, 1957. On the day before I left, Rong called me early in the morning and asked me to come to his office in the Wanchai district that afternoon. His office was in an old building next to the Southern Playground, and I had been there many times. The Workers' Union took up a 1,000 square feet floor, with a small library (Rong worked as a libraian) and a tiny recreation room where people played chess. The rest of the space held a ping-pong table: this was Rong's world.
His job as librarian gave him plenty of free time. He did not have any ping-pong opponents there, but he spent his time perfecting his serves on that table. One could say that the many great serves used by the Chinese all originated from that table in Wanchai. In this room, Rong worked on four major penholder techniques: serves, serve returns, backhand blocks and the forehand smashes. These were new ideas back in the '50's. Rong's work also spelled the end of the Japanese table-tennis dynasty.
So that afternoon I met him at his office, and there were only the two of us. He knew that I was leaving the next day, and he would be going to China in a few months. Back then, leaving one's home to go overseas was a major undertaking, and we never knew when we were going to see each other again. Being on separate continents meant that we would not be able to communicate with each other, and who knew when we could sit down to chat again? We had been close friends for seven years. We were both young, with the typical bravo of the youth: we could handle whatever came our way. But on that afternoon, we were both unusually quiet. It was almost like we did not have to say too much, and just seeing each other one more time was enough.
"Are you all packed?" he asked gently.
"Almost", I said.
"Are you going to continue shooting photographs?"
"I will bring my camera, but I probably will not make a living taking pictures", I said.
He looked at me, and something crossed his mind. "I don't know what kind of professional you will turn out to be, but I know that you will be a master of some sort", he said. He was just joking, I thought to myself. I did not see any future for me in Hong Kong, and that was why I took a chance to go abroad. I had no idea how I would survive over there, never mind becoming a master. I knew that he wished he had a chance to go to North America, but I wished I had his talents. "I might have better opportunities than you, but you are a musical genius, and also you may be a world champion. Let's all work hard for our futures", I said.
Finally, he said, "I don't have money, so I cannot buy you a present. How about taking my table-tennis racquet?" I was very pleasantly surprised. I kept the racquet in Hong Kong to make sure it would not be lost. But two years later, after Rong won his championship, one of my friends "borrowed" that racquet and I never saw it again.
"I have been working on a new serve technique. I asked you to come here today, because I want to teach you how to do this", he said. I thought that I was not going to play any ping-pong in North America, but he was so earnest and serious about it, how could I refuse to learn? That was a backhand serve, and the same apparent motion could produce topspin or backspin. Today, that would be a very ordinary serve, but back then it was indeed a major development. With that serve, I would later win a tournament in Canada, and I was able to beat some players who were otherwise better than me.
After I left Hong Kong, I never saw Rong again. My friends wrote me to tell me Rong went back to China. We all knew that if anyone from overseas wrote letters back to friends in China, that could spell trouble for the recipients. So the two of us never communicated with each other again. One evening in April, 1959, I went to see a movie in Toronto. They showed the newsreel before the main feature, and suddenly I saw Rong playing the final point against Ferenc Sido on the big screen. I got up immediately, and left the theater to walk back home. That night I could not sleep.
Ten years later, I transferred from the University of Chicago to teach at a university in Seattle, Washington. I drove up to Vancouver, and met a table-tennis player from China. Naturally I asked him about Rong Guotuan. "He died last year (1968). It was suicide", he said. That was a lightning bolt out of the blue sky; my tears fell like rain.
I knew that Rong loved his country. When I went back to Hong Kong in 1963, a mutual friend told me that he had become a great admirer of Mao, and developed a zealousness for Communism. At the time I worried about him. In 1967 when I joined the University of Chicago, I was able to read a lot about the Cultural Revolution, and I understood how the Red Guards felt about property. Table-tennis skill is a kind of property, and I wondered what would happen to Rong. I wrote a paper titled "Irving Fisher and the Red Guards" in 1968, published in the Journal of Politics and Economics, and I pointed out that if China were to get rid of private property, then the table-tennis players would be eliminated also. If China were to truly eliminate all forms of private property, then only one person in China would survive. That was why the Cultural Revolution could not go on indefintely.
I also knew that Rong loved life. He was gentle outside, but strong inside, and he would not contemplate suicide, unless there was absolutely no other way out. Through his death, I firmly grasped the horrors of the Cultural Revolution. Later I found out that the three great players, Jiang Yongning, Fu Qifang, and Rong Guotuan, who left Hong Kong to go back to China all committed suicide, and Rong was the last one. Rong, who loved life with such intensity, could not withstand the blows from the Cultural Revolution.
Rong was born in Zhuhai, Guangdong province. In mid-November, 1987, the city of Zhuhai held a 50th anniversary of Rong's birthday. I did not know how they found out that I was Rong's friend, but in any event they sent me an invitation. I was in the US at that time, and was informed via telephone of this invitation. I immediately left the US to come back to attend the ceremony. I went straight from the Hong Kong airpoirt to Zhuhai without any rest. I got in the hotel and I was wondering who I should contact, when all of the sudden I saw a girl in the lobby who looked vaguely familiar. Something clicked in my mind, and I approached her. "You must be Rong Guotuan's daughter", I said. She smiled at me, and I felt warmth flow over my body.
Next I met her mother, and we started talking about Rong's past, and we talked non-stop for several hours. We then went to see the bronze statue of Rong that the city erected. I saw that in the inscription beneath the statue, there was no mention of how Rong died. "It was poorly written", I blurted out. The mother and daughter looked at me, and I did not say anything more. I thought, this is how I would write it:
"Rong Guotuan was born in Zhuhai city, Guangdong province, on August 10, 1937. On April 5, 1959, he became the men's singles world champion of table-tennis. He was China's first world champion in any sport. He revolutionized the Chinese table-tennis style, and he took the Chinese women's team to its first world title in 1965. Ever since Rong's emergence in the late '50's, the Chinese have been a world power in table-tennis with extraordinary success. On the evening of June 20, 1968, Rong could no longer withstand the persecution by the Red Guards, and committed suicude."
(Chung's Notes: Rong suffered from tuberculosis, and he spent several months in Guangzhou (Canton) recuperating prior to joining the national team. In 1958, he made the startling statement: "To bring glory to our country, I will become world champion within the next 3 years". He later said that he made that statement because he wanted to take away his exit, so that there was nowhere else to go, and that he HAD to win.)
---
Video Clip
Video Clip of Rong Guotuan and Jiang Yongning. This was taken from the VCD set "Table-Tennis of China, 1959-1999".
---
Kong Beat Ryu in International Challenge Series Match

On Saturday, February 9, the 15th match of the International Challenge Series was held in the city of Gefei, Anhui province, China. Kong easily beat Korean Ryu Seung Min 4-1, while Li Ju defeated Korean penholder Li Eun Sil 4-2. This is the first match that Kong played with no hidden serves, as mandated by the ITTF after September 1 this year. Kong played with great style and explosiveness, and won 11-8, 11-8, 11-4, 8-11 and 11-5.
The last match of the series will be played on February 23.
---
---