April 23, 2003
---
Ma Lin Interview
(This article appeared in the January 2003 issue of "Table Tennis World", and was written prior to the Pro-Tour Grand Finals in Sweden.)



Reporter: You are ranked number one and winner of two recent Pro-Tour titles. Do you feel that you will surely win the Grand Finals?
Ma Lin: No, you can't play with that much pressure. You would not be able to play your game if you approach an event like that.


R: You were a big favorite to win the World Cup this year. Why were you stopped at the round of eight?
M: I just got back from playing two Pro-Tour events in Europe, and I was not in top shape physically or emotionally. I felt tired, and in an important tournament like that, if you had not reached the right level of excitement and did not have the strongest desire to win, you could not play the best game you were capable of playing.


R: You played great in the following two Pro-Tour stops, in Poland and in Denmark, and you beat Boll and Schlager rather easily.
M: After the World Cup, I went back to Beijing, and I had a week of adjustments. I also summarized my difficulties and targeted those in my training.


R: Have you counted how many Pro-Tour events you have won this year? You lost twice to Chuan Chih-Yuan. Was he a difficult player for you?
M: I won 4 events. Chuan's style is similar to a Chinese player's. He played on our second team for a long time, and he has good understandings of the Chinese tactics and strategies. The first time I played him at Qatar, I was up 3-1 in games and should have won. But I failed, probably because I was too anxious. In Holland, I was not careful in adapting to Chuan's changes and variations.


R: You have been rising fast. How do you see your position on the Chinese team?
M: Several of us in the team are at the same level. At any given time, there may be one player who is best physically and mentally, and that player will have the best results. We are also at the same level as some of the foreign players.


R: Failing to make the Sydney Olympics was a great setback in your career. How do you look at that experience now?
M: I did not play all that well in the tournaments leading to the Olympics, and failed to reach the goals the coaches set for me. I was disappointed for not being able to make the team. But now that I think back, I might not have done all that well even if I went.


R: Since the new ITTF rules have been adopted, you have been a very consistent player. But you did not make the Asian Games MS roster. How did you feel?
M: There are only two spots available. Against Asian opponents, such as Chuan, Matsushita, and Oh, I did not have any relative advantages compared to my teammates. The new service rule was just put in place, and we were not sure about the effects on my game, so the coaches felt that it was safer to pick Kong.


R: Some of the online fans say that whenever there is great difficulty Ma is always put in, but whenever there is controversy, Ma is dropped. They feel that your biggest opponents are your teammates. What do you think?
M: Table Tennis is an individual sport, and we can't send a lot of players out. When two Chinese players meet in the finals, our teammate is our opponent. My feeling is that first we have to defeat all the foreign players, and that is the best way for us to establish our position.


R: You and Kong have paired up since the China Open. You have played together for quite a while now, but your recent results are not great. What are the problems that the two of you face?
M: When Kong played with Liu Guoliang, his position was straightforward and natural. Liu plays pips-out and I play inverted, so I am a little further away from the table. So there is a little bit of overlap in our positions. Plus we are both right-handers, so we tend to run into each other. We have to work on our footwork, and how to initiate the 3rd ball attacks. We have not practiced much since the Asian Games. If we could focus on our problems in the closed training sessions, I think we will be fine.


R: Liu achieved great results for a penholder. You have further advanced the penholder skills, and now Wang Hao may be even closer to perfecting those skills. What do you think of Wang's achievements?
M: Wang has a larger development space. He plays the rallies better than the other penholders, and his 3rd-ball game is better than the shakehanders'. He has combined the advantages of the two styles. But he still has weaknesses. He is a little weaker in defense, and he is a little slower in his 3rd-ball attacks than the other penholders. The Europeans don't know how to play him yet. If he can execute with consistency, he will reach great heights.


R: Many feel that you are a little conservative in competition and sometimes a little hesitant in key games. Those may be your biggest problems. How would you solve them?
M: I have realized this. In actual competition, there are many factors that affect your performance, so you can't always play at the level you reach in training. There are many sources of pressure that will make you want to play safe. That is one of the reasons I don't do as well in important events. In the last two Pro-Tour stops, Liu Guoliang and I have discussed this topic a lot, and I am now trying to work on this in a more proactive way. Even if my skills do not improve any more, I can still accomplish a lot by simply solving these problems.
---
Liu Guoliang's Column: Ma Lin
(This article appeared in the January 2003 issue of "Table Tennis World". Liu's column is a regular feature of the magazine. In this column Liu stresses that for Ma to win, he cannot be afraid of losing.)


At the end of 2002, I took our team to the Polish and Danish Opens. This was the first time I led a team on my own, and I feel that I have worked well with the players. When I was still playing, I had worked closely with them, and I used to help the coaches in preparing for tournaments. Now, only my title has changed.

Before the draws, I was hoping that Ma could meet Boll. Ma himself wanted to play Boll, and he had felt confident at the World Cup that he could beat Boll. But then regretfully Ma lost to Primorac. If Ma could meet and beat Boll this time, he would improve our confidence against Boll, and would also set Boll back a bit. The draws were as we hoped for, and Ma met Boll in the two stops.


Before they played, Ma and I discussed our strategies. The main objective was to be proactive, and to greatly vary the tactics. When Boll faced Kong and Wang Liqin, he quickly seized the initiative and was clearly the more proactive player. So Ma has to be aggressive, even if it meant trading off safety. He needs to attack first, and let Boll follow his rhythm. In the matches, Ma was clearly better with his 3rd-ball attacks. Ma uses his head in competition, and he has good ability in varying his tactics. But in the past he tended to be conservative. On this trip, he overcame that problem. At the end, he seemed like he was playing an effortless game, and could make all the shots he wanted to make. When I was playing well, I also got into that zone, where everything was right and my game was the most natural and the most effective.


In the two stops, Ma made some breakthroughs, and there were things to summarize and learn from. In the past he played better in internal and in domestic competitions. In these two tournaments he played well because he did not carry any mental baggage. His level of performance was very close to his best in training and in internal competitions.


In Poland, he did not start well. He fell behind an unknown Czechoslovakian player 2-3, and finally came back to win 4-3. After that match, I reminded him that he had to pay attention to how he behaved on the court. When he was behind, he should not look like he was in great pain. As a world champion, you have to appear calm even if you were playing poorly or awkwardly. You cannot display your feelings. The worst thing for an athlete is to want to win but at the same time be afraid of losing. The best thing is to want to win, and not be afraid of losing. A player the caliber of Ma Lin should be extremely confident and dominate the opponent in spirit. He should not be playing every match so nervously.


When adjusting an athlete's condition, it is important to adjust the mental and the emotional aspects. If you are rushed or impatient, you cannot perform well even if you have superior skills. I talk to Ma off the court a lot, and when I coach him on the court, I try to control his emotions. After a match, I would use light words to help him relax. For example, if he feels that he is playing awkwardly, I would suggest that he changes to a more upbeat tempo. Actually Ma sometimes appears happy too; after every game that he plays well, he will come off the court smiling. If I were to show a stern face, maybe he would not smile so much.


When I coach him, I stress the overall picture instead of technical details. For example, in the first game, I would ask him to be more aggressive in his 3rd ball attacks and to control the pace. We would plan the first few points of each game, and try to seize the initiative. When he can do that, he will gain confidence and play with a smooth tempo. Ma is better playing a fast pace than a slow one. In attacking and rallying, he should adopt a fast pace. His analytical power and his ability to vary tactics quickly are tops in the world, and playing a slow game is not good for him.


For Ma, solving the mental problems is much more crucial than solving the technical problems. If he can have a better attitude, he will play even more effortlessly, and be a more powerful player. Before the last two stops, Ma became the number-1 ranked player. He wanted to play well to hold on to that position longer. I fully understood this, and I told him that he has to fight, instead of play safe. He has to have faith in his ability.

In the past, Ma's biggest problem is being mentally conservative. When you try to play too rigidly, you lose the creativity that is so important. He should adopt a broader view. I told him that even if he were to lose, he was still Ma Lin. People will not judge him on one match. Whether he wins or loses, he has to believe that he is one of the best in the world. I often tell him that to be a key player on our team, and to be the best player in the world, he has to have guts. He has to take on the toughest opponents, with the confidence that he is the better player on the court. He should not worry about losing a match; he should try to be a big winner in the sport.


Ma Lin has now reached a very high skill level, but he is not mentally strong. He would often play safe in the biggest matches, and not be able to play to his best ability. Ma is now aware of this weakness, and I believe that he will improve and mature.
---
The Ascent of Wang Hao
(This article appeared in the March 2003 issue of Table Tennis World, which had Wang's photo on its cover.)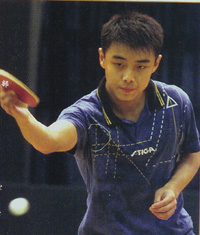 In the last year Wang has emerged as a rising star. Both domestic and foreign press has cast him as the next world-class Chinese player. In the 2002-12 ranking, Wang reached the 10th place, and in the first Pro-Tour tournament of 2003, Wang captured the men's singles title for his 3rd Pro-Tour win.


Ever since Wang joined the first national team, he has been coached by Wu Jingping, who is a fatherly figure for Wang. Wu manages all of Wang's income and expenses to make sure that Wang does not pick up bad personal habits. As the media heaps praises on Wang, Wu minimizes the number of interviews that Wang holds for reporters. He does not want Wang to let success get to his head.


Before the Chinese New Year, our reporter went to the team to meet with Wu and Wang, and listen to what they say about some common issues.
Playing Style
Wang: I have chosen this style since I was very young. I don't know exactly why I did that, but I think that I am well-suited to this style. When I first got in the PLA team and the national team, they did not think very highly of me, because I was playing a style that no one has tried before. But I eliminated their doubts with my performances.


Wu: When Wang first joined our team, I did not think that he would do well. But he improved very rapidly. His style combines the advantages of the shakehand and the penholder styles, and yet it has uniqueness. It is a style with great potential. In the past, we have learned a lot from Ma Lin's development, so we almost did not have any needless detour in Wang's development.
On the Chinese Super League
Wang: There are so many excellent players in the Chinese Super League. There is only one table in play, and there are a lot of spectators. The excitement is just as high as in the international open events. I have been playing for the PLA/ICBC team since 1999. I played 6 matches in my first year and only won one or two. That result has a big effect on me. Ma Lin, Liu Guoliang and Wang Tao all helped me figure out why I lost, and they shared their experiences with me. I learned a lot from them, especially from Liu who is my model. His approaches to the game and his personal attitude have shaped me. The training was not as rigorous at the PLA team, but Liu always told me to take it very seriously. He gave me much needed encouragement after each loss. We had a strong team, and at its peak, Ma and Liu almost never lost. I finally achieved a very good winning percentage. In every season, we set our goals on winning the league title.


Wu: Through the Super League competitions, Wang has made great strides. His team was one of the best. Liu has said half-jokingly that Wang comes from great heritage. Wang has benefited a lot from being on the same team as Liu, Ma and Wang Tao.
International Opens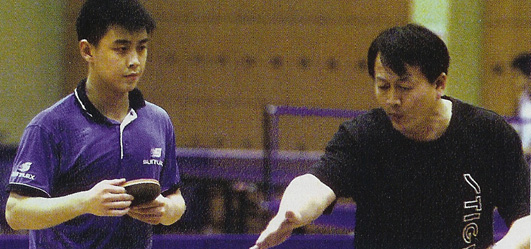 Wang: On my first international trip, I played at the Polish and Danish Opens in 2001. I lost to Rosskopf and a Swedish player, respectively. At the 2002 Egyptian Open, I won my first Pro-Tour title. From then on, I have confidence playing any foreign player. Later I also won the Dutch Open. I feel that 2002 is my year of ascent, and in my training I could always identify my technical weaknesses and dealed with them. I have made some breakthroughs. Although I still lack game experience, I have no doubt that I will be one of the best.


Wu: Wang has undoubtly done very well in the Pro-Tour tournaments, but not all the top players show up in these tournaments. There is luck involved. If he can reach the final 4 in every Pro-Tour, then we can say that he has passed the skill test. He is not quite there yet.
About Major Events
Wang: Compared to the best players, my overall ability is still a little lacking. I also do not have the experience, or the ability to fine-tune my mental state on the court, so I think it is difficult for me to beat them in major tournaments. But in the Pro-Tour Opens, I have faced all of the top players, and it will not easy for them to beat me. Although I have not played in the Worlds or the Olympics, I can imagine the excitement and the pressure. After the new rules have been effective, our team has entered a new development phase. The Paris Worlds is imminent, and we are intensively preparing for it. I am now looking forward to these top events. I hope that I can test my ability through this type of competition. I look to the future with great confidence.


Wu: Actually Wang is still only a minor threat at this point. He has not yet played in any world-class competition. From an ability standpoint, Wang is as good as any top player, but he lacks the big game experience. I think that Wang can win a title at the Paris World, but it may not be men's singles. Perhaps he will be a pleasant surprise, like Ma Lin was at the 45th Worlds winning the mixed doubles. As long as Wang keeps training hard and improving, he has a good chance to make the 2004 Olympics team, although he would still be a new talent, and he will fight hard against every opponent. If he can stay level-headed, he has great potential, and will be one of the anchors of the team in the Beijing Olympics.
---
Wang Hao Statistics:
Birthdate: 1983/12/1
Birthplace: Changchun, Jilin province.
Club: PLA/ICBC
Height: 1.76m
Age when first started playing: 7
Style: Right handed fast-attack inverted penholder.
Blade: Yasaka
Forehand rubber: DHS-666
Backhand rubber: Butterfly
Career Highlights:
1999 World Club Champions
1999 Asian Youth Team Champions
2000-01: Super League Champions
2001: Men's Teams Champions at the 9th National Games
2002: Egyptian Open and Dutch Open MS Champions
2003: Croatian Open MS Champions
2003: Asian Championships MS champion

---
Liu Guoliang Playing Shakehand
Below are some photos of Liu playing shakehand, shown in the March 2003 issue of Table-Tennis World. Liu's coach Yin Xiao said that Liu playing shakehand style can beat all the women players on the national team. Liu recently played a match against Qiu Yike, with Qiu giving Liu a 2-point handicap in every one of the 11-point games. Liu won the best-of-9 match.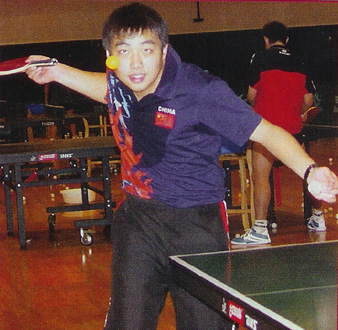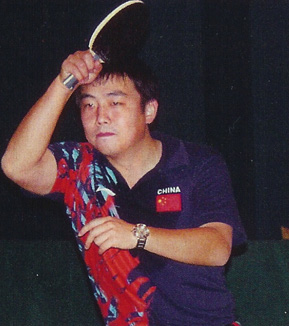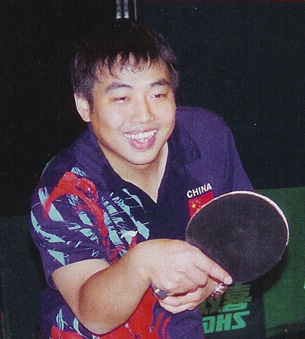 ---
Chinese Paris Worlds Roster

MS: Ma Lin, Wong Liqin, Kong Linghui, Wang Hao, Liu Guozheng, Qiu Yike, Tang Peng
MD: Wang Liqin/Yan Sen, Kong Linghui/Wang Hao, Ma Lin/Qin Zhijian
WS: Zhang Yining, Wang Nan, Li Ju, Niu Jianfeng, Guo Yue, Li Nan, Guo Yan
WD: Wang Nan/Zhang Yining, Li Ju/Li Jia, Niu Jianfeng/Guo Yue
MD: Qin Zhijian/Niu Jianfeng, Ma Lin/Wang Nan, Wang Liqin/Li Jia, Yan Sen/Zhang Yining, Liu Guozheng/Bai Yang, Wang Hao/Li Nan, Hou Yingchao/Fan Ying

Photo Link Here and Here.
---