April 29, 2003
---
Interview with Kong Linghui: Setting Sights on Paris
(This article appears in the May 2003 issue of Table Tennis World.)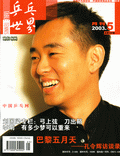 Reporter: Of the 7 spots on the Paris Worlds Men's Singles roster, 5 came out of selection tournaments. After the closed training in Xiamen, Ma Lin, Wang Liqin and Wang Hao were the first ones to qualify. Ever since 1995, you have been the main player on the team, and you never had to compete with younger players for a spot. How do you feel about the selection tournaments?
Kong: I feel that this is normal. The team wants to perfect the system of internal competition and to increase the aggressiveness of the younger players. In the two warm-up tournaments, the team selected 3 of the top 5 spots. The remaining two spots were then decided by internal round-robbins. The coaches would then pick two more, to complete the selection. I feel that this is a fair process, and I don't feel awkward playing in the tournaments. Ma, Wang Liqin and Wang Hao have been playing particularly well in the warm-up tournaments.
R: After the closed training, you trained for another 20 days or so in Beijing. The coaches gave advice to all the players at that time. What did they say to you, and do you agree?
K: They were targeting the problems I faced playing 11-point games. Coach Cai and 5 other coaches all gave valuable suggestions. Technically, I have to focus on the first three balls and strengthen my attacks from the backhand position. I need to work on some subtle adjustments, including how to strengthen my forehand loops. The coaches also gave me advice on how to adjust my mental attitude. For me, the mental problems are more challenging than the technical ones.
R: Actually a lot of us are concerned about your mental state. After the Sydney Olympics, you have been in a bit of depression. At first we thought that you had expended all your emotions in Sydney, and you needed time to gather yourself. But in the following two years, you had not achieved great results. We want to know if it is because you have won the grand slam title and you have no new motivation or goals, or if it is due to technical reasons.
K: After Sydney, I had basically won all the titles, and I felt relaxed. Liu Guoliang and I talked about this. Perhaps anyone else would also feel relaxed. In addition, I did not accurately estimate the difficulties I would have with the rule changes, and my capacity to train hard has decreased. Also, now that I am older, there are more things that distract me, and that affects my training.
But I still take the Worlds, the Asian Games and the World Cup very seriously. No matter how many world titles you won, you take major tournaments seriously. So my losses in Osaka and in Jinan (2002 World Cup) affected me quite a lot. Although I would not easily lose the confidence I gained over the years, and even if I were in worse shape I would still have confidence that I would play well, that confidence comes from accumulated results, so not winning for a long time makes me feel a little unsure. In those two tournaments (Osaka and Jinan) I made the finals despite not being in the best shape, so those were acceptable results. I could have won those two events, and the reason I did not was due to my inability, after Sydney, to keep my spirits high for an extended period. Before Sydney, my goal was very clear; I had never won the Olympics so that was the highest goal. I had the strong conviction that I would win . Of course I wanted to win in Osaka, but when I was up 2-0, I started to relax; I felt that I had it. At the World Cup in Jinan, I won the first game, and was ahead 10-8 in the second, but could not win that match. When I lost in Osaka, I did not feel too bad because I lost to a teammate. The World Cup loss affected me more, because I did not play well in the Asian Games, and winning the World Cup would have stabilized my mental state.
R: I remember that you were down for quite a long time before the Sydney Olympics. Now you have been down for almost two years. We all hope that you will come back.
K: I hope to come back, too. But after the 11-point format was adopted, every player's chance has increased, and my difficulties were relatively greater. I hope that through the last closed training session I would tune my physical and mental conditions to their best, with the help of my coaches.
R: We all understand that the Paris Worlds is very important for you. If you do well, you would boost your chances of playing in the Athens Olympics. If you do poorly, you may lose your position as a key player on the team, and be overtaken by younger players like Ma, Wang Liqin and Wang Hao. How do you look at this?
K: I think this is normal. Just like when Liu Guoliang and I did well in the 1995 Worlds, we got to play in the 1996 Olympics. Ma Wenge did not expect not to make the Atlanta Olympics. To keep our team strong, we must have young players pushing the old. The older players have to work hard to extend their playing careers. If you are not good enough, you cannot do well even if you were handed the opportunity, and our team will not give you that opportunity. So the Paris Worlds is a very critical tournament for me, and it is a new starting point for me. I have to build up the confidence for the remaining part of my career. Even if I do not play well in Paris, that does not mean that I have no chance to play in Athens; there is still more than a year to go. I can still improve my skills.
R: Do you have a particularly strong desire to play in next year's Olympics?
K: Of course. I want to play even more in the Beijing Olympics. I wish the two venues could be swapped. I want very much to play in the first Olympics in China, but 2008 is quite distant for me. Now my immediate goal is Paris, and the next one is the Athens Olympics.
---
Worlds Preparation Update
*Because of the SARS epidemic, the national team postpones its return to Beijing. The players and coaches are effectively quarantined in the Zhengding training base, and contacts with the outside world is kept to a minimum. Several team doctors are closely monitoring the conditions of the players, and anyone with fever or coughing symptoms will be immediately moved to an isolated ward.
*From April 23 through April 27, the Chinese team held tournaments in all 5 events. For Men's singles, 8 players including Zhang Yong are divided into 2 teams of 4 and they play a team match against each other. The team of Ma, Kong, Liu Guozheng and Qiu Yike easily beat the team of Wang Hao, Wang Liqin, Tang Peng and Zhang Yong 6-2. Qiu suffered the two losses, while his teammates all won two matches each. Coach Cai was most impressed by Liu Guozheng's performance. Through the two training sessions, Liu has recovered his form and made major technical progress. He has also improved his ability to adapt on the court, thanks to Liu Guoliang's coaching. Ever since he took over as Liu Guozheng's coach, Liu Guoliang has felt the great pressure. Now his efforts have paid off, and he is confident about Liu Guozheng's performance in Paris. He feels that Liu Guozheng will be a contender for the men's singles title. Wang Hao suffered a minor setback: he pulled a muscle on his upper arm in training. The injury is probably not serious, and he resumed training on April 27, although with less intensity.
*In the women's singles warm-up tournament, Wang Nan unexpectedly lost to Li Qiumei from Henan province. There were 16 entries in the tournament, and top-seeded Wang Nan lost in the first round to 25-year-old Li who was runner up in the 1998 national championships. In the semi-finals, Bai Yang beat Niu Jianfeng and Zhang Yining overcame Li Ju. Prior to the finals, Cai told Zhang that only a 4-0 or a 4-1 score would be counted as a victory. He asked the players to choose which side to cheer for. Wang Nan and Li Ju picked Bai Yang, and Cai acted as Bai's coach on the court. Zhang won the finals 4-0, and those on Bai's side had to run 15 laps around the buildings.
---
Cai Zhenhua Talks About The Team's Chances
After the Paris roster was announced, coach Cai Zhenhua talked to reporters about China's chances at the Worlds.

Can thinks that China's best chance for the gold medal is in Women's Singles, since Wang Nan and Zhang Yining are the two best players in the world. "WS is looking the best, and then there is Mixed Doubles which we have about a 60 to 70% chance of winning. Following are Men's Doubles and Women's Doubles, and we should have more than 50% chance on each of those two events. In Men's Singles, the situation is most difficult, but we should still have about a 50% chance", Cai said. This Worlds is the first one to adopt 11-point games and the no-hidden-serve rule. Cai said that the CTTA is expecting to win 3 gold medals. "In addition to winning the gold and the silver medals, we want to show the great spirits of the Chinese players. We want to express our people's will to battle diseases (SARS) through our strong showing", Cai said.

Cai feels that Ma Lin has the best condition among the players. Ma who was having some emotional issues earlier is in very good playing shape now. Liu Guozheng has shown the biggest improvement in the training sessions. On the other hand, Cai is not very satisfied with Wang Liqin's condition. "He has not really solved his problems yet. Mainly he does not use, or adjust, tactics correctly in matches", Cai said. Of the women players, Cai said that Wang Nan has the best condition.

Finally, Cai said that because of the new rules, the results are harder to predict. So the Chinese team has not only analyzed the top opponents, but also those in the second or third tiers.
---
New National Team Members
The following 5 players have been promoted to the first national team:
1. Zhang Jike:
Birthdate: 88/2/16
Height: 1.72 m
Style: Right-handed two-sided fast-attack inverted looper
Equipment: Stiga blade. Forehand rubber DSH Hurricane 3, backhand rubber Butterfly.
Career highlights: Started at age 5. Joined Luneng club in 2000, 2nd national team in 2002/3 and first team in 2003/1. MS winner of 2002 Hungarian International Youth Tournament. Men's teams winner of 2001 national youth grand finals.
2. Yang Xiaofu:
Birthdate: 86/1/12
Height: 1.77 m
Style: Right-handed two-sided fast-attack inverted looper
Equipment: Stiga blade, forehand rubber DHS H3, backhand rubber DHS custom rubber.
Career highlights: Started at age 5. Joined Luneng club in 2000, 2nd national team in 2002/3 and first team in 2003/1. MS Winner of the 2002 Taiyuan International Youth Tournament.
3. Zhou Bin:
Birthdate: 87/3/11
Height: 1.8 m
Style: Right-handed two-sided fast-attack inverted looper
Equipment: Yasaka blade, forehand rubber DHS H3, backhand Butterfly.
Career Highlights: Started at age 6. Joined Liaoning province team in 1999, 2nd national team in 2002/3 and first team in 2003/1. 3rd place in 2002 Elite Youth tournament.
4. Qiu Yike:
Birthdate: 85/1/8
Height: 1.73 m
Style: Right-handed two-sided fast-attack inverted looper
Equipment: Avalox blade, forehand DHS H3, backhand Butterfly.
Career Highlights: Started at age 6. Joined 2nd national team in 2002/3 and first team in 2003/1. Also played on Sichuan and Qingdao teams. 2002 Pyongyang Invitation MT and MD champions. 2002 Taiyuan International Youth Tournament MT runner-up, MS 3rd place and MD winner. Winner of ITTF Junior Pro-Tour Grand Finals.
5. Ling Weichao
Birthdate: 84/3/28
Height: 1.76 m
Style: Right-handed penhold inverted fast-attack looper.
Equipment: Yasaka blade, forehand DHS sponge and 999 topsheet, backhand Butterfly.
Career Highlights: Started at age 8. Joined Guangdong province team in 1998, 2nd national team in 2002/3 and first team in 2003/1. 2001 Asian Youth Championship MT winner, MS runner-up and MD runner-up.

---