October 5, 2002
(Last edited: 10/6/02 1:00 am PDT)
---
Chinese Women Lost in Busan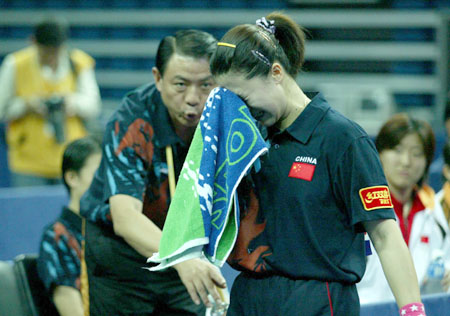 What should have been a routine victory for the invincible Chinese women's team turned out to be the biggest upset in these Asian Games. The Chinese women team, undefeated for the last 11 years, lost 1-3 to the unheralded team from North Korea, and had to accept second place.
World-number-one Wang Nan was the number-one player for the Chinese in the finals, but she lost her two matches. In the first match, ZhangYining took a straight-forward win over N. Korea's number-one, Kim Hyon Hui, 3-0. In the second match, Wang Nan unexpectedly lost to Kim Hyang Mi 0-3 (-7, -8, -6).
In the semifinals match earlier that day, N. Korea had to fight hard for a difficult 3-2 victory over Japan. The team that no one favored played superbly in the finals. Kim Yun Mi, who did not play in the Japan match, struck the decisive blow. She is a penholder with inverted on one side and long-pips on the other, and she plays a rare style that could be very difficult to deal with. Li Nan did not play comfortably against this style, and lost the key 3rd match 2-3.
The 4th match pitted the two top players: Wang Nan vs Kim Hyon Hui. Facing the 13th ranked player in the world, Wang appeared tight, and made numerous offensive errors. Wang fell behind 1-2, and was down 5-9 in game 4. Suddenly Wang won 5 points in a row. But now Kim was playing without any hesitation, and she finally won 13-11 to seal the victory for N. Korea, putting an end to the 11-year-old winning streak of the Chinese women's team.
Afterwards, coach Li Xiaodong talked to reporters: "Tonight's results are totally unexpected. Wang Nan has been having back problems and was not in the best conditions, Overall we did not do too badly, but N. Korea played much better. They were in great spirits after beating Japan. Wang Nan has the old problem of taking too long to warm up", he said. Coach Cai asked the team to seriously summarize the loss, and play the following individual events well.
***
Coaches' Comments
Li Xiaodong:
"We did not play up to our levels, and the North Koreans played above their levels. They had thoroughly studied us, and were very well prepared for tonight's match. They showed some significant differences from before. They are now aggressive and steady, instead of simply aggressive.
"Wang Nan had tried hard. She has a back injury but she had insisted that she would train hard. She played well in the earlier matches.
"Tonight Wang Nan was not in good condition. The wait between semifinals and the finals was too long. The finals was supposed to start at 5:30 pm, but did not start until 8:30 pm. Wang Nan could not get into correct state of mind after the long rest.
"We put in Li Nan because of her fighting spirits. Because she is still young, she was affected by Wang Nan' s unexpected loss in the 2nd match. In the decider she was ahead 8-5, but did not stick with the coaches' directives, and lost the chance".
Cai Zhenhua:
"One of the main reasons for the loss is that we did not have a good understanding of the North Korean team. This is a "mysterious" team, and we are not familiar with them, especially after the new service rules have been in effect.
"We should not stress external conditions as reasons for why we lost. We should look inside us for the reasons."
Both coaches said that the Chinese still hold a definite advantage over the opponents in the 3 individual events coming up. The key is to make the proper mental adjustments, and get out from the shadows of defeat.
For complete Asian Games results go to: http://www.busanasiangames.org/Eng/
---
China Beat Korea 3-0 in Men's Team Finals

After the huge upset the previous night, the men's team final match became a much more interesting event. The Chinese and the S. Korean teams have faced each other numerous times, and every match had been close. The most memorable one is the semifinal match in Osaka, when Liu Guozheng saved 7 match points in that all-time classic. The Koreans have not won the Asian Games team title since 1986 in Seoul. Could China keep that winning streak alive, or could the Koreans create another huge upset in Busan?
Ma Lin was the visiting team's number-2 player in the finals, and he faced Kim Taek Soo in the first match. They are both right-handed loopers, but Ma has a finer control game and stronger 3rd ball attacks. In game one, Ma used the reverse backhand to pin Kim on his backhand and took the game 11-7. In game 2, Kim started to place the ball deep and let Ma loop first. Then he could counter-loop and get into a looping rally, and use his strong rallying skills. This strategy worked well and Kim win the second game 11-9 after a mild Ma comeback. In the 3rd game Ma increased the variations of his placements and streaked to a 9-4 lead. Then Kim scored the next 4 points, and Cai called time-out. Ma settled down and scored the next 2 points to win game 3 11-8. In the 4th game, Ma established his advantage early and ran out the game 11-4.

In contrast to the first game, the Chinese veteran Kong Linghui faced a young Korean in the second match. S. Korea's Ryu Seung Min was the number 3 player in Osaka. He has been playing well recently, being the runner-up in the Brazil Pro-Tour and placing 3rd in the Korean Open this year. And the start of the match, Ryu showed excellent spirits, and he used his speed and ferocious attacks to control Kong. He raced to a 2-game lead, 11-7and 11-5. At this critical point, Kong showed his world-class mental strength. Backed up with no room left, Kong used his tempo and placement variations to neutralize Ryu's fierce attacks, and won a very tough 11-9 3rd game. Ryu appeared deflated, and lost the 4th game 2-11. Kong played with great emotion in game 5, and won that 11-5, picking up the critical 2nd point of the finals match.
Ahead 2-0 in match score, the Chinese team was in great spirits. Wang, buoyed by his teammates' cheering and visually animated, scored the first 10 points over Oh Sang Eun, and won game one 11-1. The Chinese coaches placed Wang in the 3rd position to make sure that they would pick up that critical 3rd match over the likely opponent Oh Sang Eun. Starting from game 2, however, Oh played like a different player, and his fierce forehand

and backhand attacks firmly limited Wang's offense. Oh won the 2nd and 3rd games at 11-6 and 11-9. Wang fought back to win a tough 4th game. Now the match got white-hot, and the lead alternated in game 5. Oh got to a 9-7 lead, but now Wang was playing without any hesitation. He attacked with no reservation, and tied up the score at 10 all. Then he quickly scored the next two points to win the game at 12-10, the match at 3-2, and the finals at 3-0.
Yet another tightly fought match between the two teams. Even though China won 3-0, every match was close and very tightly contested. Once more, after Osaka, the Chinese has prevailed over the mentally strong Korean team. It was a difficult victory, but the Chinese also showed that they could come back from diversity. This is a good sign for the upcoming individual events.
---
Cai's Comments on the Men's Team Finals
After Ma Lin defeated Kim, coach Cai Zhenhua could smell the victory. From his perspective, the Ma-Kim match was the most important one. Whichever side won that match would have a firm upper hand. "Our next two matches were to our advantage", Cai told reporters.
After the match Cai shook hands with Korea's coach Yoo Nam Kyu. That was the second time they met that day. In the early meeting, Cai appeared calm as usual, and Yoo looked a little unsettled. Yoo had not expected to see such a lineup from China: Ma in second position, Kong first, and Wang to play 3rd. The Korean order was Kim, Ryu and Oh. "We expected that line-up from Korea", Cai said afterwards.
To prepare the lineup, the Chinese coaches met until 4 am the previous morning. They knew that Ryu had been playing well, and that Oh had been bothered by the service rule change. So putting Wang in 3rd position against the likely Oh seemed like a better idea. Even though the lineup was successful, the outcomes were unexpected, since Ryu and Oh played so well.
According to Cai's pregame analysis, he was most comfortable with Kong playing Ryu and Wang facing Oh. But he had to sweat out those matches. Kong had to come back from 2 games down, and Wang was behind in the 5th game at match-point.
Cai was very impressed by Ma Lin's performance. "Kim is their number one player, and his team's hopes depend on him. Ma has passed the test. He balanced aggressiveness and steadiness very well, and is the best Chinese player today", Cai said.
"Ryu's first two games against Kong gave us a lot of pressure. Ryu was playing much better than expected. His game used to be somewhat coarse with a relatively high number of unforced errors. Now his attacks are very strong and his coverage much greater, and he is integrating the different aspects of his game much better", Cai said.
"Wang won the first game too easily. As usual, he relaxed, and did not catch up to his opponent's changes. That was why he had to struggle so much. Wang's techniques are the best in the world, but he is weaker in changing and adapting to changes on the court when the game gets difficult. But his biggest improvement is that when the game is on the line, he plays very decisively and positively, with no hesitation or reservation This is a major step in his growth as a player", Cai said.
"I sweat when I am nervous", Cai told reporters. But there are some very positive things that he is happy with. Kong could rapidly adjust his game, and Wang could now play his best at the critical points. "When we face the Koreans again, we will be a much more confident team", he concluded.
---