November 12, 2000
---
An Interview with Chiang Peng-Lung
(Translated from Table Tennis World, November 2000)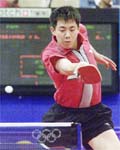 In the just completed World Cup at Yangzhou, Chiang Peng-Lung from Taiwan received a lot of media attention. After his first match, he was surrounded by reporters. A common question was: "How did you improve so fast?"
In the last year or so, Chiang had made amazing progress. His world ranking jumped to 6th place, he beat several Chinese top players, and has become a main opponent of the Chinese team.
After the crowd left, I asked to interview him on a one-to-one basis. After he heard that I was a reporter with Table Tennis World, he cheerfully agreed. The next day I met him at his hotel.
Chiang Peng-Lung, born April 1976 in Peng Wu, Taiwan, is 1.84 meters tall, and a very handsome young man. Away from the court, he appears quiet. As a native born Taiwanese player, he has reached a very high level in table tennis based on hard work and his intelligence. This has been a big surprise in the table-tennis world.
Sitting on the lobby sofa, Chiang told me his story.
"I started playing when I was 9 years old. Back then my school formed a table tennis team. I thought it was a lot of fun, so I learned to play. After a while, I fell in love with the sport.
"In Taiwan, we do not have good training conditions. We lack good training partners, and our training time is limited. So whenever possible, we will play in tournaments. In the last couple of years, I played professionally in Europe a lot, so I have become much better technically, and my level rose rapidly. The more I play, the more experience I have, and through playing against players of different levels, my touch has improved quite a bit.
"Before the Olympics I was playing for a club in France. After the Olympics I will play for Duesseldorf in Germany. Now I am commuting between Germany and Taiwan, and I also have to play a lot of European tournaments. I m very busy and very tired. But if I want to play better, that's what I need to do. In Germany I play mainly in the European league; I have not played much in the German league."
Four years ago Chiang went to Atlanta. He was in the same group as Kong, but of course not at the same level. Four years later, he was in the same group as Kong in the World Cup, and he beat Kong 2-0. There were many reasons why Kong lost, but still, we can see that Chiang's game has reached a very high level. He plays with great speed and power, is very good with serves and serve receiving, and he also has great control. So he is a great threat in any competition. His great backhand shots from mid-to-distant table won him loud applause from the spectators.
Before the Olympics we interviewed ITTF president Sharara, and he mentioned Chiang many times. He thinks very highly of Chiang who has made such tremendous improvements in a short time.
"Before the Olympics, our team hoped that Chang Yan-Su and I will win a medal in men's doubles. So we spent more than half our training time on doubles. But we lost to the Korean pair Lee/Yoo in the quarters, and lost our chance. We were ahead 2-1, and were in great shape to win. I still feel sorry thinking about it. Singles was relatively much more difficult, so I just hoped to do my best and to get as far as I could. In the 8ths I lost to Liu Guozheng. That was not an unusual result; compared to him I was at a lower level technically", Chiang said.
"When you were at the top of your game, they switched to the big ball. How does that affect you?", I asked.
"The big ball affects all the players. Everyone starts from the same level, so it depends on who adjusts better. I feel that the bigger ball does not have too big an impact on my style", Chiang replied.
Chiang is a very smart player. His coach Wu Wenchia said that Chiang is good at using his brain when playing. In Taiwan, training conditions are poor, and Chiang is still going to school, so he can only train 3 hours a day. It is not easy to get to this level.
Besides playing table tennis, Chiang is going to college at a research institute in Taipei.
"Because I play table tennis, my specialty in school is table tennis. I think learning more about the theoretical aspects of table tennis will definitely help my game. I do not have a very tough school schedule; I only have to write my thesis. And it is easier for me to study table-tennis".
"Tell me a little about your outside interests", I asked.
"I like to play other sports to relax. I like listening to music, especially good popular music. I also like to watch movies, and to go out".
"In Taiwan you must have a lot of fans. How do they show their admiration?", I asked.
"I have quite a few fans, and I also have a lot of friends. Among them are athletes and students. But there are not a lot of table tennis lovers in Taiwan, and the fans are not as active as those in mainland China. They typically will post on the net to support me, and someone set up a web site for me. We have never had any problems with fans," Chiang said.
"You play in a lot of tournaments, and you meet the Chinese players frequently. How is your relationship with them?", I asked.
"I feel that Liu and Kong are very easy to get along with. They do not place themselves higher because they have won so many titles. They have always been the same: very friendly. They are about my age, so I get along very well with them," Chiang said.
"Do you surf the internet a lot?", I asked.
"I seldom go on the internet, because I am very busy traveling between Taiwan and Europe. Usually my friends find news about me on the net and tell me, and then I will go and read them", Chiang said.
In the interview, Chiang mentioned repeatedly about the poor training conditions in Taiwan.
"In my playing career up to now, it has been difficult for me to set a goal. Because the training environment and the conditions are poor in Taiwan, there are not too many chances to play. It is hard to get good results with these conditions, so I have to fight to improve. That's different from the Chinese players who think that unless they are world champions they have not had good results. I very much like to play in China, but the Chinese have not agreed yet. Maybe if I were to train with the national team, I would place some pressure on the players, and that's why they do not want me to come. Now I play in Germany, and at least the training partners are much stronger than in Taiwan. There are also more playing opportunities, and that will be good for my development. In the last few years, the tournament that I have the deepest impressions with is the Asian Championship. I won that title, and that was the best tournament I have ever played.
"After the World Cup, I will represent the Taiwan universities in the World University Championship on October 24. I have a very full schedule", Chiang said.
After the interview, we took some pictures outside. He was a little tense because the posts took a bit of time. We joking asked him about girl-friends, and he said he does not know of any since they never tell him.
At the end I gave him two issues of Table Tennis World. "I heard that it is difficult to get this magazine in Taiwan. If you like, we can send them to you:, I offered.
He was very happy to hear that. "We usually borrow it from others. Sometimes we copy the whole issue", he said. I felt touched by that, and I took his address.

---

Samsonov and Bride
Here is a wedding picture of Samsonov and bride Natasha.
---
Sporting Goods Exhibition in Changsha
The 2000 Spoting Goods Exhibition is being held in Changsha, China. Of special note is that there are over 100 manufacturers showing table-tennis related equipment. Liu and Kong were on hand to sign autographs. Click here for some photos. Kong is a media spokesperson for Butterfly. Liu Guoliang now has a line of TT shoes names after him. Sunflex of Germany has signed up Wang Liqin and Cai Zhenhua. Tianjin RITC (Friendship 729) was happy to have signed up Wang Nan to be their representative.
---
World Cup Photos
Click here for some photos from the World Cup. The bottom picture shows Australia's Gerada in action. Here are some more photos.
---